News — Liberty ULV Fogger
Posted by Sam Petegorsky on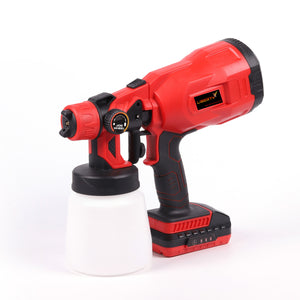 Whether you are a pest control professional or a homeowner, the Liberty Handheld Fogger is an awesome tool to have in your arsenal. It is convenient, easy to use, and can reach into areas where other sprayers may not be able to
Posted by Shimon Petegorsky on
Recently there was a news article discussing how a large airline was going to be using expensive electrostatic foggers for disinfecting their terminals across the country. While I was already aware of the limited range of disinfecting sprayers/foggers, I didn't know the specs of this particular model, so I did looked it up. Turns out this particular fogger, costing thousands of dollars, has an effective range if 2-4 feet and takes a full hour to disinfect 18,000 sq ft. On the other hand, the Liberty ULV Fogger, has an effective range of 20 feet, 5 times that of the electrostatic...
Posted by Sam Petegorsky on
That is a question that our customers frequently ask us. After all, no one wants to deal with cords when they have the option of going cordless.This is a subject that I have researched thoroughly, as we had the opportunity to bid on government contracts that preferred a cordless option. There is an important difference between sprayers and foggers. While sprayers only require a minimal amount of air pressure, the motor on our Liberty Backpack Fogger is significantly more powerful at 1400 Watts. What is considered a large capacity Lithium Ion Battery of 48V at 2AH, would only produce 96...
Posted by Sam Petegorsky on
There has been a lot of resources investing in promoting electrostatic sprayers, the marketing has apparently been quite successful as we have many inquiries from customers regarding this type of sprayer. Being that we are constantly on the lookout for new products that would benefit our customers, I would like to share with you the findings of my research. The first thing one needs to clarify when possibly purchasing an electrostatic sprayer, is weather the item in question is actually an electrostatic sprayer. Many of the sprayers and foggers being marketed as electrostatic, are in fact, not electrostatic at all,...
Posted by Sam Petegorsky on
While the benefits of Hypochlorous Acid have been known in the scientific community and food service industries, it has recently been gaining more attention as people seek a safe and effective weapon against Covid-19. Unlike most chlorine based disinfectants, Hypochlorous Acid at effective concentrations, can be non corrosive, and is safe for human contact. In fact, it is naturally produced in the human body. Not only is it safe, but it is highly effective in combating a wide range of viruses and bacteria. Hypochlorous Acid has been shown to be effective at a concentration of 200 PPM with as little...